Lyaluckan
- The self closing swingdoor for dogs!
Selfclosing door for dogs
Side hanging. Left or right
Attached on inner or outher wall
No freezing or draughts, lined with rubberstrips
Delivered with or without window

LYALUCKAN is a self-closing door for dogs, made of hard plywood. Hinged details are made from chromium-plated steel. Framework and door are reinforsed with sheet-metal to prevent from gnawing.
LYALUCKAN is side hanging, and can be mounted with the hinges either to the left-or to the right side.The door can be attached to eighter the inner- or the outer wall.
The door opens and closes with help of a built-in coil spring allowing the door to open and close in both directions. The door is lined with rubber strips.
The ingenious closing mechanism in combination with the rubber strips makes the door free from draught. No risk of freezing to the doorframe.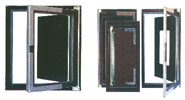 The larger door is aviable with a Lexan plastic window.
The smaller door is suitable for most sporting dogs and the larger one is suitable for Alsatian dogs and other larger dogs.
Obtainable in two sizes
Aperture size for mounting
Smallest opening
Catdoor
200 x 255 mm
165 x 200 mm
Door
(dachshund or cat)
215 x 330 mm
170 x 285 mm
Small door
290 x 410 mm (+35/-5 mm)
240 x 360 mm
Big door
363 x 483 mm (+35/-5 mm)
313 x 434 mm
Big door with window
363 x 483 mm (+35/-5 mm)
313 x 434 mm